Adult Packed Lunch Ideas
Neema Kay, 9 months ago
3 min

read
261
Packed Lunch Ideas for Adults
These days I don't have time to scout around on google for lunch ideas, but thanks to my list of go-to lunch ideas, I can have a packed lunch ready in no time.  What is that they say again? Oh yeah, time is money. Besides, why spend hours trying to plan a lunch menu that takes less than 45 minutes to consume. To help you plan out your week,  here are some tips.
Always pack something that will maintain its

freshness

: sandwiches, fruits, healthy snacks pre-portioned in 100 calorie portions (get

little

Ziplocs

from Amazon.)

Quantity

is also important.  For an adult, it can be challenging finding a packed me all that also satisfies the appetite. I am a great believer in filling the belly. It is a well-known fact that a partially full belly could lead to unnecessary snacking and spending on calorie-laden snacks. This will only lead to spending more money for another quick bite somewhere.

Your leftovers from dinner can serve as a great lunch.  This will save you some time and eliminate waste.  If you have enough for a few days, store it the appropriate way and use whenever you want.

 While at work, it is almost impossible to get the amount of exercise that you need on a daily basis. To avoid adding unwanted pounds, cut down on junk food and fat as much as possible.  Although not typical for packed lunches, wrapping food in pre-cut foil keeps it warm and fresh.  

You can keep water and juices cold by freezing them the night before.

Invest in flask and mason jar; for soups and salads.

 Be mindful of the ingredients that you use. Make sure you don't use ingredients that spoil quickly. Freeze juices and drinks so that they remain cool till you consume them.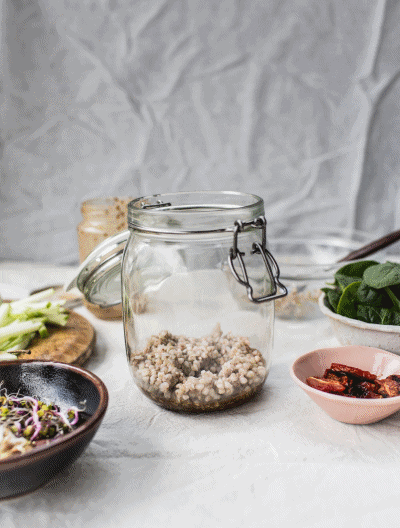 Sample Weekly Lunch Ideas
Monday: Make a sub with some whole wheat bread  Hungry Girl Fold It Flatbread – 90 calories per serving). Add veggies, honey roasted turkey, and mustard. Pack some cut fruit like apples or pear.  Fill up on water or take your favorite juice with you.
Tuesday: It's a good day for a burger.  Costco sells the pre-packed beef patties that will have you making a burger like a pro. Skip everything else, add lettuce and mayo. Pack some fruits and soda too.
Wednesday: It's time to take a break from bread, and choose a different carb.  Pasta Wednesday it is.  Don't have time to make any sauce? Try Emeril's home-style marinara, I swear by it.  Apple juice sounds like a good companion, don't you agree?
Thursday: Ever had a coleslaw sandwich? Make a simple coleslaw: see my recipe here. You may need to pack your coleslaw in a mason jar. and fill your flatbread when it's lunchtime. Pack some kale chips along with some grape juice.
Friday:  Sounds like a salad kind of day. Use the mason jar method.  If you have some leftover protein from dinner, add it.  Pack some water and a small snack of protein bars or graham crackers.
Saturday: Cook some jasmine rice the night before, bake some chicken breast (Try my rosemary chicken breast recipe). Heat them in the morning and pack in your flask. Also pack some soy sauce packets, carrots, and soy milk.
These ideas serve as a starting point for those amazing packed lunch ideas that I see in your future. Mix and match and don't forget to try something new often. Always pack some tissue for those messy days and most importantly, your type of job, eating habits and lifestyle will dictate what goes in your lunch bag.
Shop Amazon Gift Cards
.
Related posts
Meet the Author
Hey, I'm Neema. A mom, wife and self-proclaimed foodie. Lately, I've seen such a HUGE upward trend in blogging. Without hesitation, I decided to pack all my knowledge of parenting, recipes and more in this tiny little site.
Learn more
Subscribe
*You will receive the latest news and updates on your favorite topics!